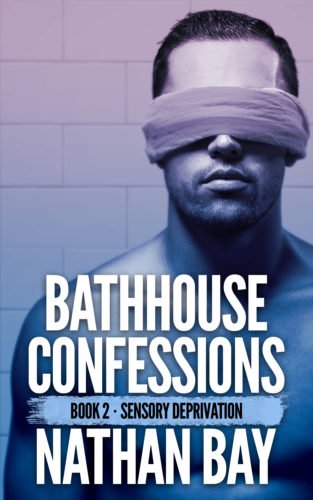 Welcome to the bathhouse, a place where your wildest fantasies can come true. Leave your hang-ups and inhibitions at the door because this is a place where anything goes.
Meet Trevor, a college student with a daring secret wish. Ever since he saw a flick about a man's twenty load weekend, he's been curious about having a similar experience. Now he's finally worked up the courage to try it.
To add to the intensity, he's going to do it with his wrists bound behind his back, a blindfold wrapped around his head, and earbuds playing an EDM mix so he can't hear anything. Relying only on his sense of touch, taste, and smell, he'll be at the mercy of anything random strangers want to do to him.
How much stimulation can Trevor endure before he reaches his limit? And what happens when you relinquish all control in the bathhouse? Find out in this sizzling short story by Nathan Bay, Amazon bestselling author of gay fiction.
Sensory Deprivation features 51 pages of heat, just the right length for an exciting bedtime story. Fetishes include: orgies, BDSM, flogging, leather, hands-free orgasm, and double penetration.
Each entry in the Bathhouse Confessions series is a stand-alone short story which can be read in any order and does not contain cliffhangers.