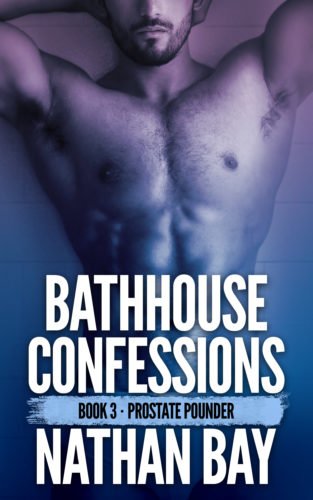 Welcome to the bathhouse, a place where your wildest fantasies can come true. Leave your hang-ups and inhibitions at the door because this is a place where anything goes.
Meet Adam, a closeted gay college student who's about to experience a bathhouse for the first time. Adam has so many secret desires he's kept under lock and key. Tonight is the night he plans to let go of fear and set his heart free.
Elsewhere in the city, there's a man who goes by the nickname Prostate Pounder. His talent is self-explanatory. His conquests are legendary. It's been said that he can make any man experience the greatest climax of their life completely hands-free.
A case of mistaken identity is about to bring Adam and the Prostate Pounder crashing into each other's worlds. Then a tantalizing opportunity will present itself.
What will happen when Adam breaks all the rules and does something truly ruthless? Find out in this sizzling short story by Nathan Bay, Amazon best-selling author of gay fiction.
Prostate Pounder features 39 pages of heat, just the right length for an exciting bedtime story.
Each entry in the Bathhouse Confessions series is a stand-alone short story which can be read in any order and does not contain cliffhangers.